The Rechargeable Twitching Lure does not depend on the fisherman's experience and skill. It works even if it is simply drifting in the water. The secret is in the Vibra-Strike Technology. That's what makes the lure twitch, flash, and buzz. Those three signals attract fish from miles away. Fish can't resist a lure with this technology.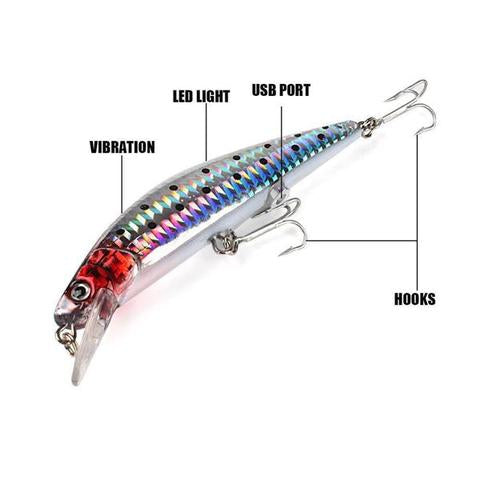 Rechargeable Twitching Lure Features
Vibra-Strike Technology Triggers Genetic DNA Instinct to Strike
Charges in Minutes

Lights Up in the Dark

Twitches, Flashes & Buzzes in Water to Mimic Wounded Bait Fish
Hand-Painted Top-Quality Lure

Sharpest Mustard Hooks
Specifications 
Length: 11cm.
Battery: 50mAh.
Charging time: 15 to 20 minutes (NOTE:Please don't charge over 20 minutes, or this product will burn out)
Duration Time: about 40 minutes if full charging
It will even catch your fish at night!